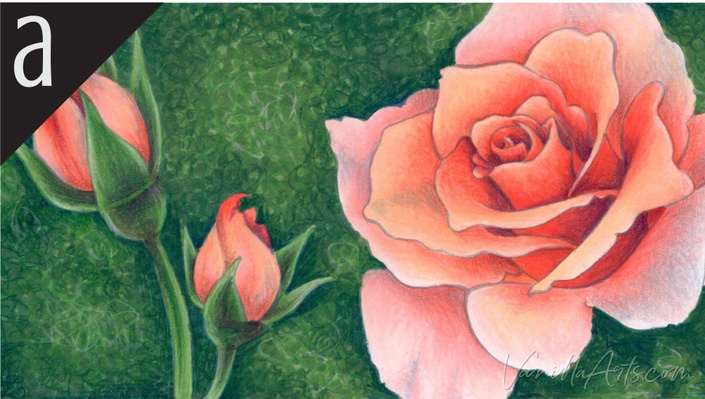 Peach Rose
Create dimensional petals for complex flowers using underpainting and photo references.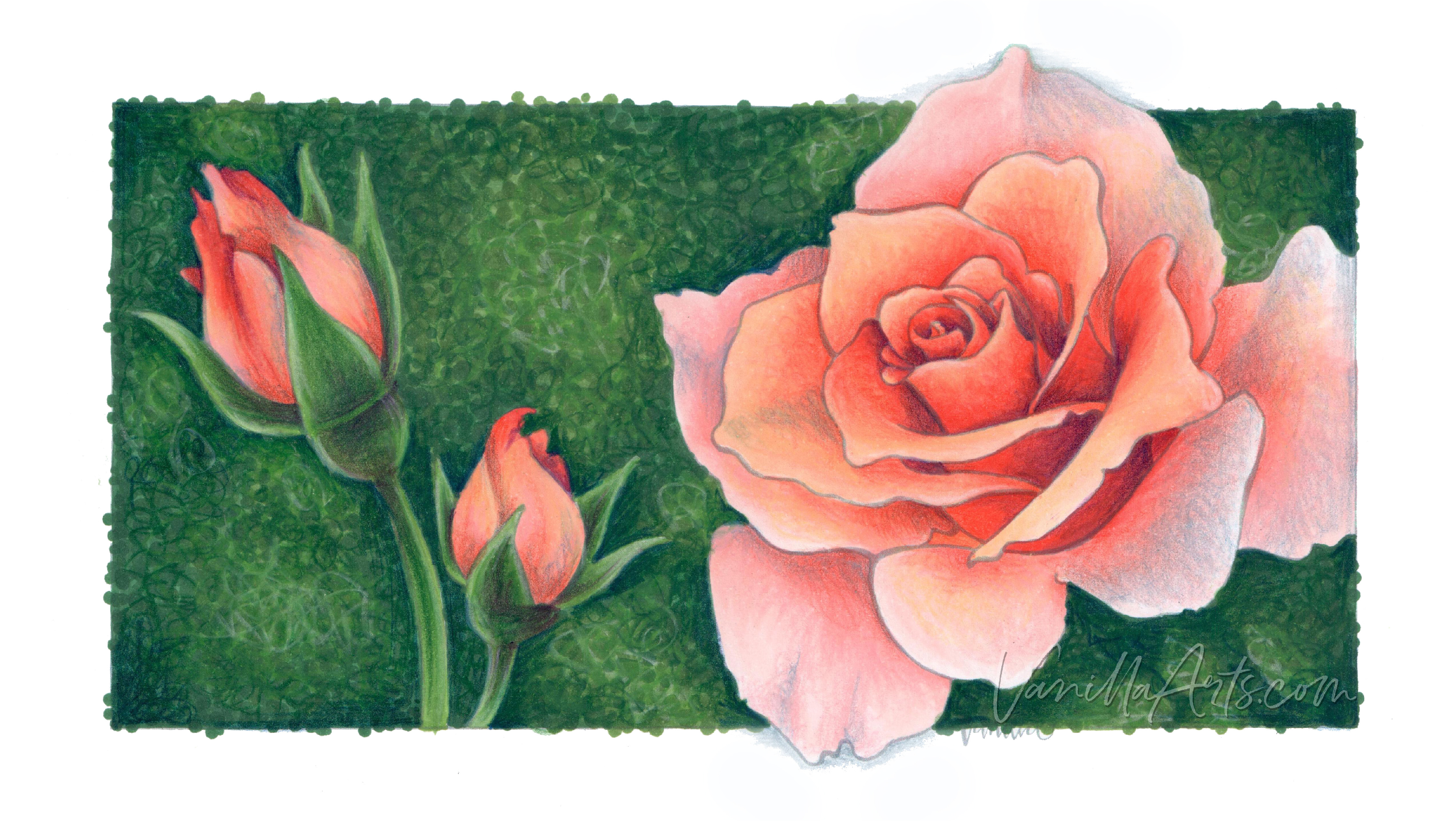 Join Amy Shulke, a professional illustrator and marker enthusiast for a fun and informative coloring lesson- Vanilla Arts style!
Marker Painting is a completely different approach to coloring with markers.
Amy teaches students basic techniques and color theory based on the way artists use paint. Instead of focusing on "how" to color a selected stamp image, Amy shows you the "why" behind color selection, shade, layering, depth, and form. This provides students with the necessary knowledge to color any stamp image in their collection and every stamp they might purchase in the future.
Take your coloring to the next level-- coloring with independence, creativity, and your own unique voice.
Are you ready for a floral challenge?
In previous classes, Amy has showed you how to color flower petals using her Push & Pull method and we've talked about using logic to develop shade. Peach Rose puts those skills to the test as we learn to read a photo reference-- finding the pushes, pulls, and idiosyncrasies of real life flowers.
Watch as Amy battles logic versus what she sees in the photo reference to develop realistic depth and dimension.
If you're interested in maximizing the realism in your coloring, this class serves as an excellent introduction to photorealism. The concepts used here can be practiced and perfected into extremely realistic coloring.
Peach Rose is an advanced level coloring demonstration.
It requires confident Copic and colored pencil skills. Basic blending techniques are not covered in this class.

Skill Level: Advanced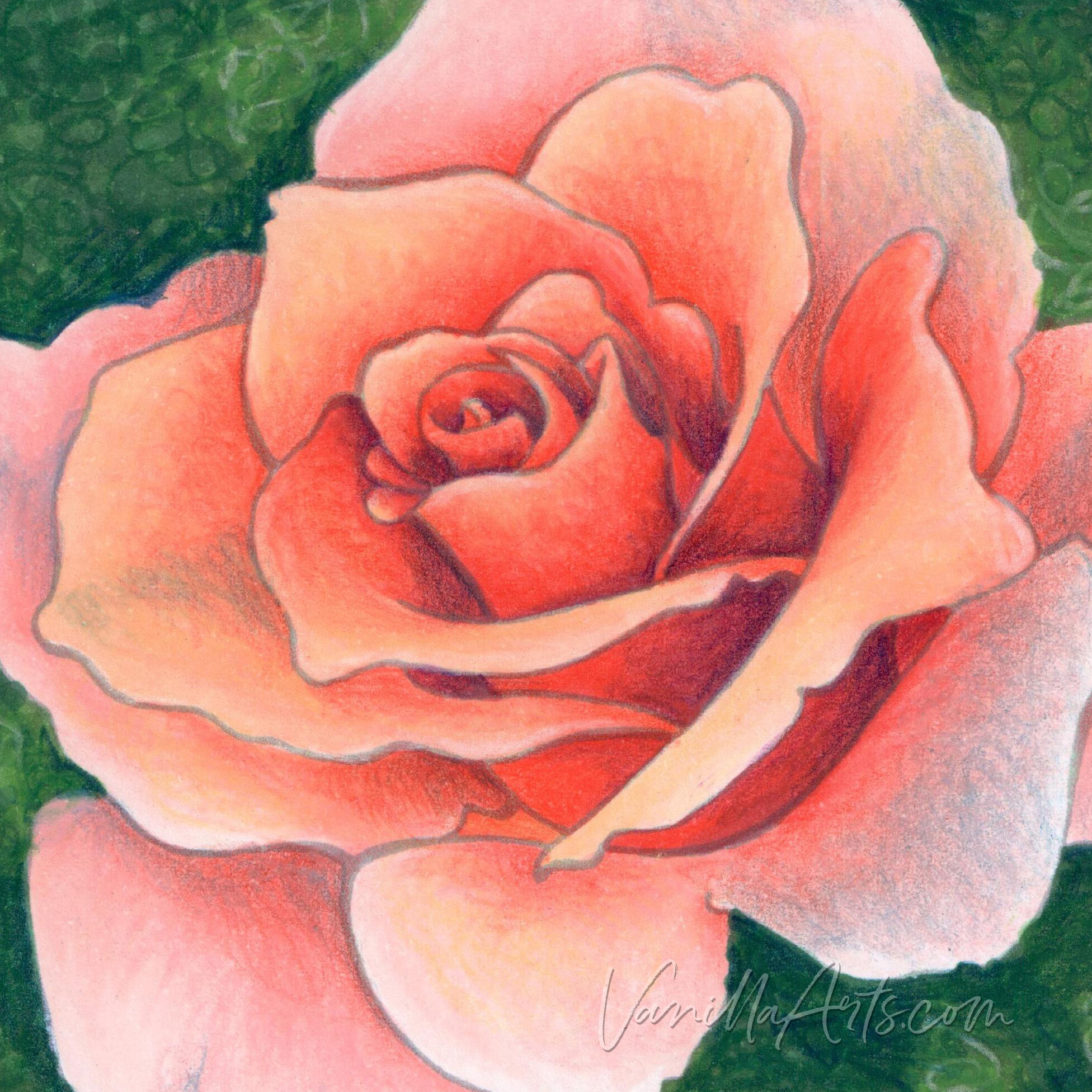 About Demonstration Style Classes:
This is a demo rather than a formal class. It was filmed live and unscripted here at Teachable.
This is a different style of presentation than our normal Marker Painting Workshops. Amy speaks live and off-the-cuff, so this class is more conversational and extremely casual.
This is an authentic look into the way one artist works. Real time coloring is very different from edited step-by-step videos. You will see Amy stop to think, the speed she colors, and she even makes mistakes. There is a lot to learn from this realistic peek into her process and Amy does an excellent job explaining her thoughts and fears as she works.
Live attendees are able to ask questions during the broadcast and these questions often lead to interesting sidebar topics and personal observations. Be prepared for the conversation to wander a bit. We do keep the discussion focused on art, coloring, supplies, techniques, and related Vanilla topics.
Sorry, the live Q&A option is not available to those watching the recorded version.
Techniques Used:
Flicking
Push & Pull
Underpainting
Using photo references
Color runs
Pointillism
Detail work with colored pencils
Course Includes:
Almost 4 hours of video demonstration with frequent Q&A timeouts. Work at your own pace.
Digital stamp in three handy formats (PNG, JPG, or quick print PDF)
Recipe guide
Printable photo reference, underpainting guide, detailed color map, and full color sample
Required Supplies: printable supply list included in class package
High-quality Copic-friendly marker cardstock (X-Press It Blending Card or Cryogen Curious Metallic White 89lb are highly recommended.)
Copic Markers

Artist quality colored pencils (Prismacolor Premier recommended)

Mod Podge brush or Hake dusting brush.

Clipboard or hard surface (glass mat is recommended)

Drafting tape.

Pencil, pencil sharpener

Drafting tape.
Erasers - black and white polymer, white sticky tack, Tombow Mono Zero (round).
Your Instructor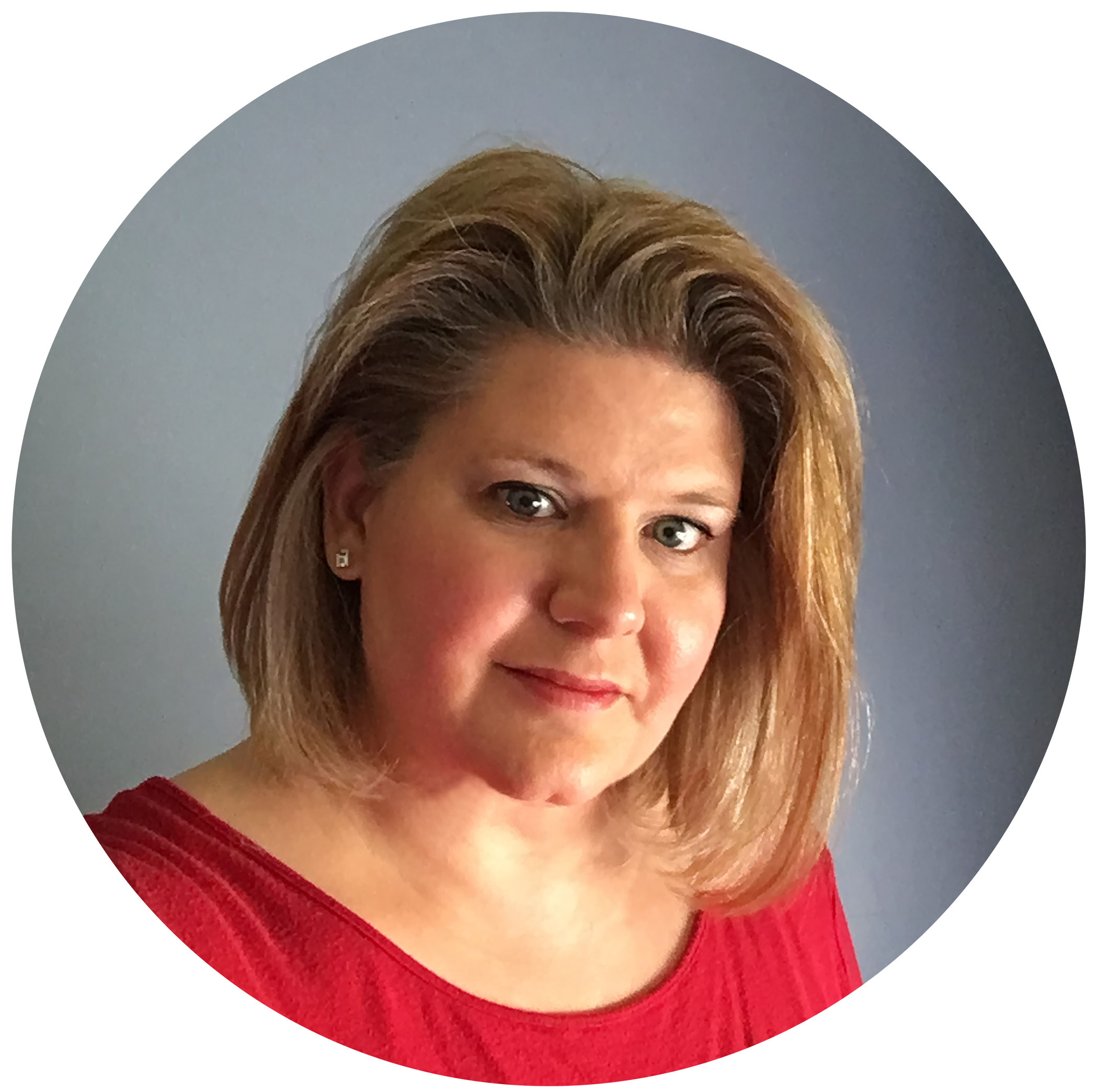 Amy is a professional freelance technical illustrator with 25 years of experience in graphic arts. Amy began using colored pencils in 1985 and she started with DeSign markers in 1989. Colored pencils with a base of either marker or watercolor is her preferred process for portraiture and scientific illustration. She has a special passion for teaching crafters and shy artists to stretch their boundaries by adding established fine art techniques to their coloring projects.
Join Amy for fun and highly informative lessons which will not only change the way you color but the way you see color in the world around you.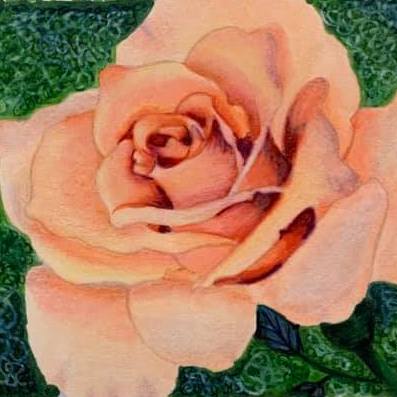 Cherie G did an amazing job!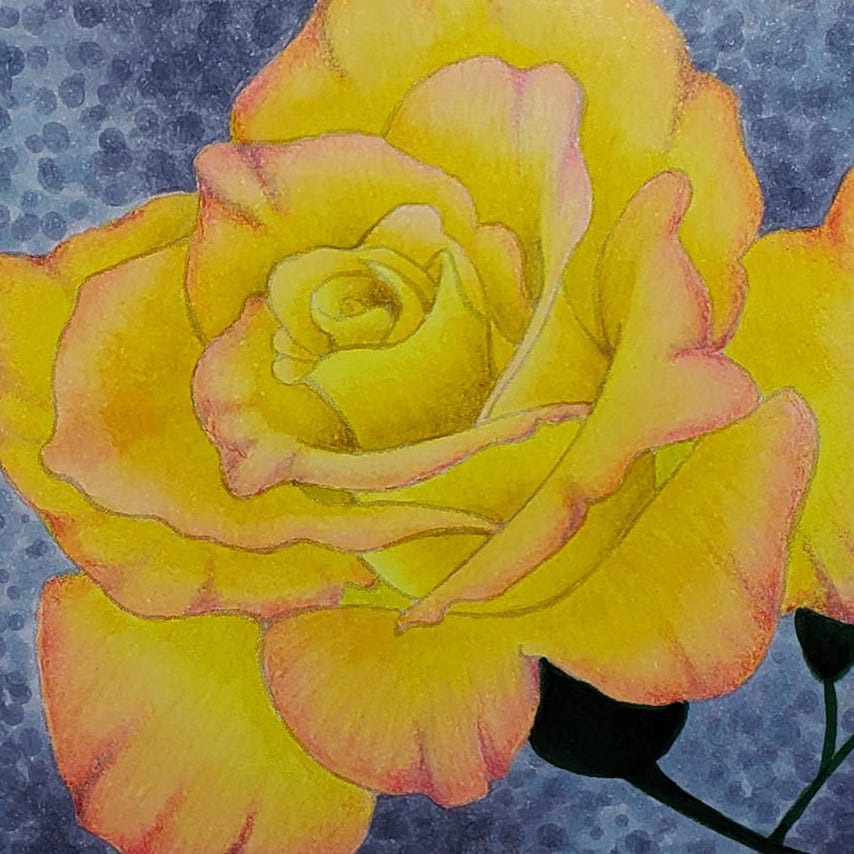 Elizabeth B created a beautiful Peace Rose.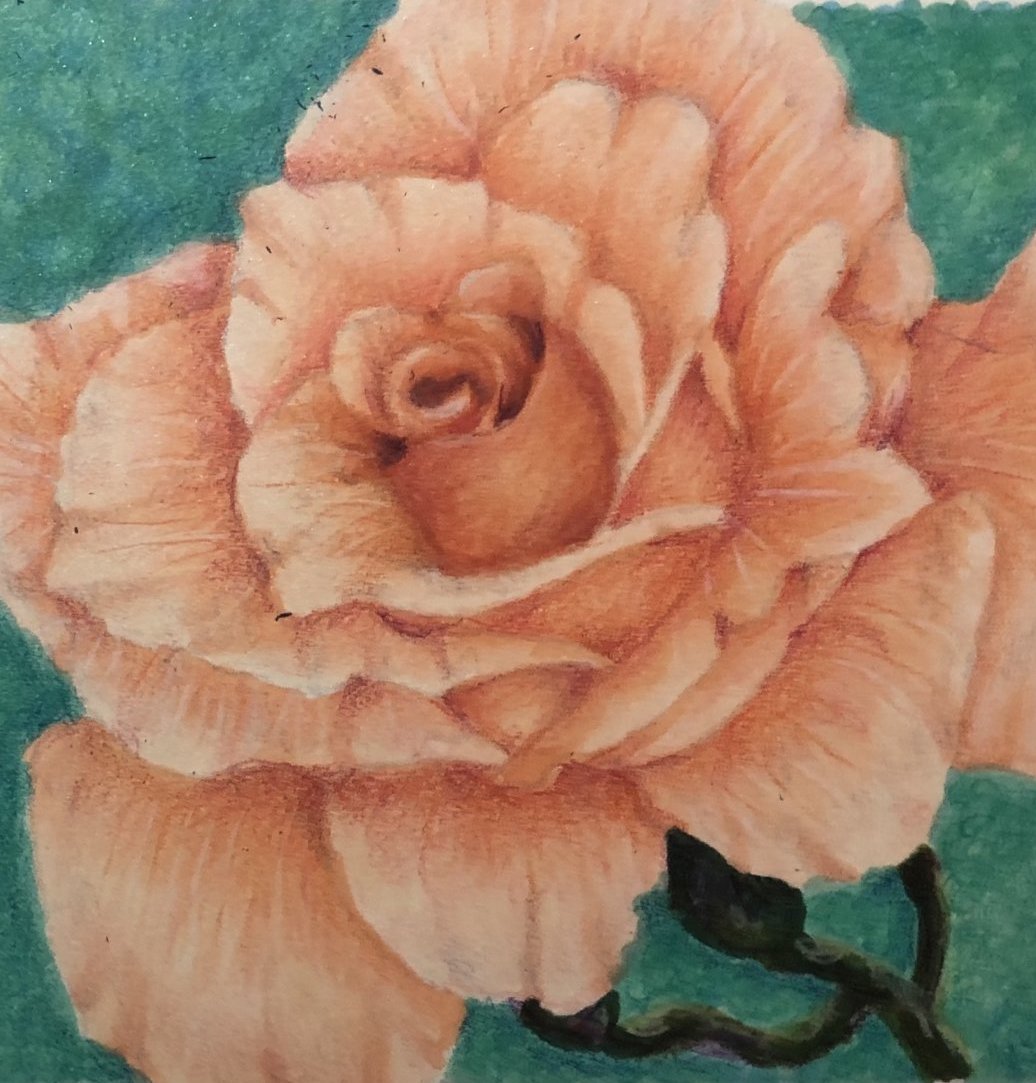 Jody S experimented with background colors.
Frequently Asked Questions
When does the course start? Do I have to wait for segments to open?
The class starts when you're ready! 100% of the course will open to you immediately after purchasing. Work at your own pace.
How long do I have access to the course?
You have unlimited access to the content by logging into your Teachable account. Materials will be kept here on Teachable for the life of Teachable and/or Vanilla Arts.
What skill level does this class require?
This is advanced coloring for confident students. You need to be competent at blending and other basic Copic skills. You must also be comfortable using colored pencils at several pressure levels. For more information email
[email protected]
Is the digital stamp included or do I have to purchase it elsewhere?
The digital stamp is included in the class materials. No additional purchase necessary.
What if I'm missing markers or supplies from the required list?
I'm liberal about supply substitutions BUT please understand that not all markers and pencils behave the same way, even if the colors are similar. Every substitution changes the look of your finished project. The more substitutions you make, the harder your project will be to complete. If you are missing a color and want advice on alternatives, email
[email protected]
Can I use a different brand of marker?
I'll be honest, I use Copic because of their brush nib. I've yet to find another maker brand with nibs as springy and juicy. I would suggest that some of my techniques are unlikely to work well without a brush nib... but if you've got other markers and are willing to match my colors to your brand, GO FOR IT. Sorry, but I won't be much help troubleshooting any problems you encounter because I won't be able to test your blends myself.
What if I am unhappy with the course?
If you are not satisfied with your purchase, contact me within the first 30 days for a full refund.
[email protected]
Can I download the videos?
Sorry, due to issues with course sharing, videos are not downloadable and must be watched while logged into your Teachable account. This is actually a benefit as it allows us to modify, improve, and correct videos as needed.